Megan A.
Veterinary Assistant
Megan started working at MVC in October 2019. She was born and raised in Prince George. After highschool, she graduated from Sprott Shaw college's VOA program in September 2019. She has always been an animal lover and is most passionate about animal welfare of all species. Her favourite thing about working with animals is that every day is different and there is always an opportunity to help those in need.
Megan lives with 2 sweet rescue kitties named Buzz and Jägermeister.
Reegan H.
Veterinary Assistant
Reegan was born and raised in Prince George and is currently at UNBC pursuing a degree in biology. She began working in the industry in 2017 and would like to become a veterinarian one day. She knew she was in the right profession because she found the work very interesting and enjoys going to work at the clinic.
When she is not at work or school, Reegan enjoys going riding and spending time with her horse, Digger, as well as going hiking and going to the lake.
Madison F.
Veterinary Assistant
Bio coming soon!
Holly J.
Veterinary Assistant
Bio coming soon!
Megan M.
Veterinary Assistant
Megan graduated from the PSO in 100 Mile House and moved to Alberta after graduating. She lived there for 5 years where she worked at 2 different vet clinics, one being a 24 hour emergency clinic, then moved back to BC to Prince George after getting a job at Murdoch vet clinic!
Megan has always had a passion for animals and started volunteering at a vet clinic in 2015 and shortly after was offered a job and has been working in the vet industry ever since! She loves her job and the experience she is gaining while doing it.  She loves and enjoys the challenges each day brings!
Megan knew at a very young age she wanted to work with animals and even as a young child  she was constantly bringing home stray or sick animals. Once she started volunteering at a vet clinic, Megan knew she wanted to work with and help animals in this way!
Megan has an amazing family, Dad and 4 sisters! Megan and her 2 younger sisters were born and raised in 100 Mile House where she went to school with her boyfriend. After the 2 graduated they moved to AB!
During her free time Megan enjoys being outdoors and loves spending time at the lake. She and her fiancé now live in PG and have a Pit Bull mix named Bentley , 2 cats Mimi and Remi and some chickens! They enjoy camping, exploring new lakes in the area or any outdoor activities they can do with their dog!
Cheyenne R.
Veterinary Assistant
Bio Coming Soon!
Aspen C.
Kennel Attendant
Originally from Vanderhoof BC, Aspen started at Murdoch in November 2022 after moving to Prince George to attend UNBC for her English degree and to be closer to the equestrian community here.
Having previously worked in veterinary care in Vanderhoof, Aspen got into this field because she was curious to see how veterinary practices functioned and wanted to further her knowledge and experience with animals. Her favourite part of working with animals is probably experiencing all of their different and unique personalities. Animals are so expressive, no two are the same!
Aspen knew she was in the right profession every time a pet and client go home healthier or happier than when they came in 🙂
Having grown up on a farm with many horses, dogs, and cats, Aspen also trains and rides horses outside of work for pleasure and competition.
Indy
Kennel Attendant
Indy grew up in Prince George and graduated from Prince George Secondary School in the spring of 2023. She has a passion for animals and plans to attend Vet Tech school in the fall of 2023. Indy has always been interested in the hustle and bustle of a clinic and has a love for animals. She has four dogs and has been riding horses for most of her life.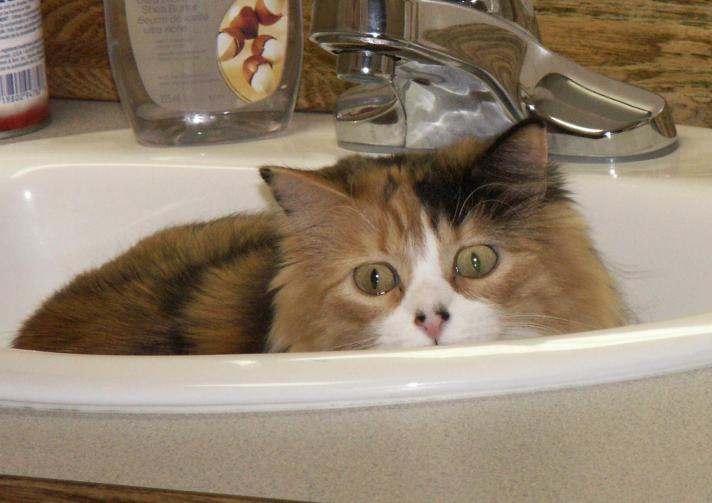 Squirrel M.
Supervisor, Security
Squirrel came to Murdoch Vet clinic in May 2010 with a broken leg. She can be found sleeping on the treatment desk, treatment table, various chairs…. basically any horizontal surface! But don't let her apparent sleepy personality fool you she stalks the staff in the hall, grabbing a leg as they walk by. She has a favorite 'baby' toy which she yowls and screams at… but only if she thinks no one is looking. One of her favorite past times is to use Dr. Murdochs office plant as a litter box!