Emma W.
Veterinary Assistant
Emma started as a volunteer in October 2012, then in 2016 officially joined the team as a part time kennel attendant. It is her dream to be a veterinarian someday. If she wasn't still in school she would be here every day learning everything she could and just having fun. Emma has 4 furry family members, Sam, Maggie, Kit-Kat and Smoky. She is on the swim team year round and in the winter months she is on the freestyle team at Tabor Mountain. She also enjoys other outdoor activities with her triplet brother and sister like cross country skiing! Emma also LOVES Garfield comics.
Megan A.
Veterinary Assistant
Megan started working at MVC in October 2019. She was born and raised in Prince George. After highschool, she graduated from Sprott Shaw college's VOA program in September 2019. She has always been an animal lover and is most passionate about animal welfare of all species. Her favourite thing about working with animals is that every day is different and there is always an opportunity to help those in need.
Megan lives with 2 sweet rescue kitties named Buzz and Jägermeister.
Reegan H.
Veterinary Assistant
Reegan was born and raised in Prince George and is currently at UNBC pursuing a degree in biology. She began working in the industry in 2017 and would like to become a veterinarian one day. She knew she was in the right profession because she found the work very interesting and enjoys going to work at the clinic.
When she is not at work or school, Reegan enjoys going riding and spending time with her horse, Digger, as well as going hiking and going to the lake.
Madison F.
Veterinary Assistant
Bio coming soon!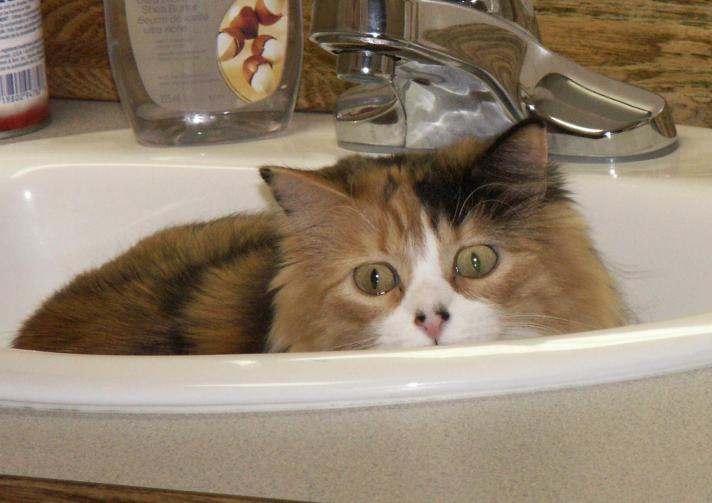 Squirrel M.
Supervisor, Security
Squirrel came to Murdoch Vet clinic in May 2010 with a broken leg. She can be found sleeping on the treatment desk, treatment table, various chairs…. basically any horizontal surface! But don't let her apparent sleepy personality fool you she stalks the staff in the hall, grabbing a leg as they walk by. She has a favorite 'baby' toy which she yowls and screams at… but only if she thinks no one is looking. One of her favorite past times is to use Dr. Murdochs office plant as a litter box!