Registered Veterinary Technologists
Bailey M.
Registered Veterinary Technologist
Bailey McLean Graduated from the AHT program at Fairview College in 2015. Worked as a practicum student at Murdoch vet clinic in 2014 and is currently a Registered Veterinary Technician. She moved to Prince George from Burns Lake in 2019 for a new adventure. She Grew up on a farm with horses, sheep, cows, and chickens. Did pony club which fueled the passion for horses. Had a love for all animals and was very interested in helping them when they were wounded/sick. She lives with her husband, 2 dogs, 2 cats, 2 Ferrets, 1 horse, and an axolotl. She also enjoys traveling with her husband, adventures with her 2 dogs, fishing, hiking, riding her horse, fostering pets, and watching them get loving homes. Visiting with friends and family.
Kristy S.
Registered Veterinary Technologist
Kristy was born and raised in PG and grew up with animals. She started out volunteering for Murdoch Vet Clinic as a high school student. She really enjoyed being in the clinic and was inspired by the techs that worked there at the time. Kristy got a job as a kennel attendant. She made the decision to go to school to become a Vet tech.
After completing college, she found her way back to us and has been working here since 2006. In 2007 she furthered her education by taking several courses on canine rehabilitation at the University of Tennessee. Kristy is passionate about physiotherapy and happily guides our recovering patients and clients through the rehabilitation process after ligament surgery.
Kristy is married to a wonderful hard working guy. They have two beautiful children and currently two wonderful geriatric retrievers.
Katrina W.
Registered Veterinary Technologist
I was born and raised near Smithers. I graduated from the Animal Health Tech program at GPRC in Fairview, AB in 2014. We came to Prince George for my husband's work in 2016.
I grew up on a dairy farm and did many years of 4H. I love being part of a team and getting to make a difference in the lives of the animals and their families. I live with my husband, Lab mix dog, 2 cats, and Axolotl. In my spare time, I enjoy volunteering for the Prince George Therapeutic Riding Association, riding my own horse, taking my dog for adventures, visiting my family and farm near Smithers, and traveling to the Yukon where my husbands family is from.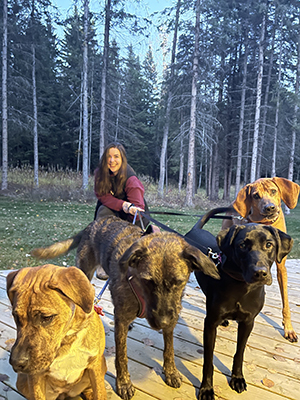 Madison B.
Registered Veterinary Technologist
Madison was born in Chilliwack, BC, but spent a large majority of her childhood growing up in Prince George. She graduated high school in 2014, in the NWT, and returned to Prince George in 2016 with her mom. It has been a city to call home for her ever since.
Madison's childhood dog, a black lab named Journey, became sick at a young age and required frequent veterinary visits as well as a strict medication regime. While Madison's parents paid the bills, she was responsible for making sure Journey made it to all of her appointments and received all of her medications on time. Throughout this process, and Journey's eventual passing, Madison found her passion for working with the furry-four-legged kind. Her favorite aspect about working with animals is providing that dedication she had to Journey, to the veterinary world; knowing what it is like to be on the other side of the medicine, she strives to meet every client and patient with the level of knowledge, support, and dedication, she was met with through her experience.
Two key moments stand out to Madison when recalling a time she knew she chose the right profession. First, when she got home from the very first day of her practicum; she was so exhausted from her introduction to the real world that she laid down on her kitchen floor as it was the closest spot for her to sprawl out. Madison laid there and told her boyfriend all about her day, and, despite the exhaustion, she couldn't wait to go back the next day and learn even more. Second, she was still on her practicum and a fellow technician turned to her and told her she could see the passion in her, and that she was exactly where she needed to be.
Madison lives with her boyfriend and her four large dogs (Jupiter, Red, Brindle, and Pip). When she went into tech school, she only had Jupiter. She graduated with Red and Brindle as adoptees, and recently added Pip to the pack as a medical 'foster fail'. She enjoys quiet mornings with the pups, a good coffee, quiet music, and a great book; baking; and, puzzles. Next up on her agenda is to learn how to play an instrument!
Michelle C.
Registered Veterinary Technologist
Bio Coming Soon!
Jocelynn S.
Registered Veterinary Technologist
Bio Coming Soon!